KLONDIKE, CPA Central Headquarters – After announcing their return yesterday the Purple Republic staged the first raid of many today at the practice battle between the Golds and Chaos.
After many false-dawns and rumoured comebacks the Purple Republic officially announced their return to Club Penguin with a raid of the Golds vs Chaos practice battle. In what was supposed to be a low-key affair between two SMAP armies the Purple Republic rampaged and ruined the practice battle making it impossible for the battle to take place.
Before the practice battle there was massive confusion, as a few Golds entered the berg on Pine Needles they noticed a massive amount of Golds situated there already, despite low numbers on chat. Everyone was blissfully unaware that this was in fact the Purple Republic disguised as Golds.
Within a matter of minutes the Purple Republic revealed themselves at the iceberg and began to do what they do best and make the battle impossible to go ahead.
The armies then decided to try and switch rooms to evade the PR however with spys all over the Golds chat the town was flooded in minutes and once again the battle was made impossible.
In a last-ditch effort to complete the Practice Battle the leaders announced a server change from Pine Needles to Flippers. However, once again, with spies rooted everywhere the Purple Republic quickly caught on and flooded Flippers town disguised as Golds.
Left with no other options both sides agreed to cancel the practice battle, a 'victory' of sorts for the Purple Republic with their aim of ruining the practice battle well and truly achieved. A post on the PenPr steam group said 'THEY POSTPONED IT, HHAHAHHAHAH' showing their obvious delight at ruining a small-scale practice battle between two armies hoping to bounce into the CPAC Top 10 in the coming weeks.
They quickly formed their signature Swastika before logging off declaring victory.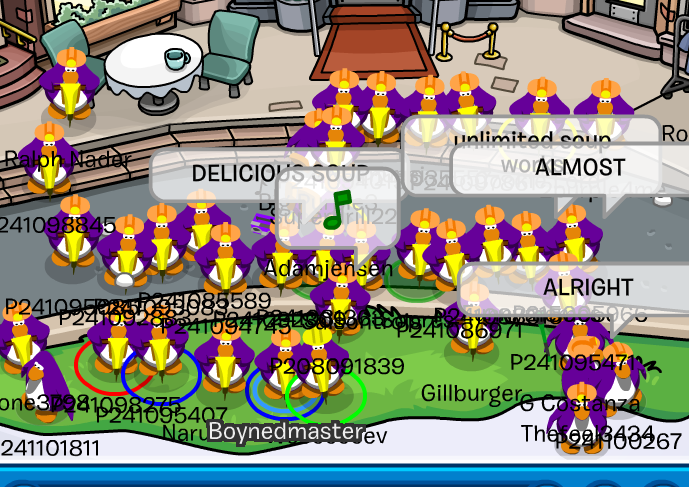 The big question is, what's next for the Purple Republic? Many predict they will clash with their old foes the Army of Club Penguin, but with the Conquest games dry run tomorrow and the official event just 2 days away you can be pretty sure the infamous Purple Republic will make an appearance.
Comment YOUR opinion, will the Purple Republic dominate Club Penguin Armies? Will this be a short-lived revival? Will they try to ruin the Conquest Games? Thanks for reading.
Tempah,
CPA Central Reporter
Filed under: Army News, CP Army News